Personalized and Professional Care at Your Local Lehigh Valley Pharmacy
Personalized and professional are the two words that describe Fountain Hill Pharmacy. You are more than a number on a prescription. We greet you when you arrive … by name.
We want to answer your questions and we want to help.
We're professional which insures your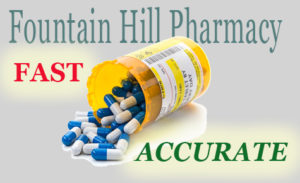 prescriptions are filled fast and accurately. Your overall health is our responsibility and we take that very seriously.
When you visit our pharmacy please look around. You'll find low-price generic prescriptions, as well as over-the-counter and personal care products.
We carry a wide variety of all commonly used RX & OTC products, as well as many of the harder to find specialty and less common products. If there's something you need and we don't have it in stock, we will make every effort to find it for you or order it as soon as possible. We also have a large selection of Holiday and everyday greeting cards, as well as a wide variety of candy- including the old fashioned "penny candy" of days past.
We're involved in the community. We're local, your neighbors, and we want our Lehigh Valley to be vital and healthy. That's been our goal for over 22 years !!
We look forward to serving you.